Children's Church Returns
With everything being just a little different this year, new opportunities arise, like re-imagining Children's Church…
With Hope
Let us hold fast to the confession of our hope without wavering, for he who has promised is faithful. Hebrews 10:23
In typical years, we like to encourage children's church for our younger children, around 4 years old thru second grade. However, with us practicing worship at home, why not use this opportunity to invite the whole family to participate? Consider this your family's invitation to join Casey at 9:30 am on Sundays, on Zoom. Please RSVP for the link.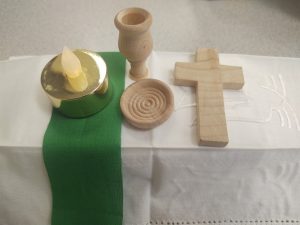 Each family will be given a children's church box, which will also serve as an altar, filled with everything you will need to set up your worship space and enter into the children's church experience, wherever you are.
Messy Church
is resting with Jesus on the boat for a while. We will be back. Please watch for updates.
What is Messy Church?
Messy Togetherness <—Click the link to learn more about the history and purpose of Messy Church.